TLDR; I'm the king of overkill, but I want to do things the right way. I installed a managed switch just to have my DTE Smart Meter Energy Bridge in my server closet.
---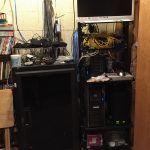 I got the DTE Energy Bridge for my Smart Meter a few weeks ago. My server closet is the best place for it, but I'm out of ports on my 24-port switch, so I temporarily installed it in my theater using an Ethernet jack on the wall. Having it dangling there drove me nuts, but I knew that I would remember to install it correctly if it was kept in plain sight.
When we moved into our current house, I made running Ethernet to (almost) every room a priority. Gina was a real trooper and helped crawl through the attic, pass cables through walls, and even dig into insulation to find lost cables where my hands wouldn't fit. I built everything around a freecycled telecom rack with some rackmount shelves installed. All in all it has worked well and been through a few dozen iterations. But it has had a 24-port patch panel (rescued from the trash at work), a 24-port unmanaged switch, cable modem, router/access point, media server and web/home automation server.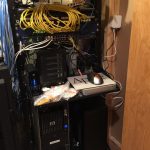 After 10 years I had run out of ports on the switch and my server closet is in a perfect location to install the DTE Energy Bridge: ~15 feet away from the exterior wall where the Smart Meter is installed. I had a few rarely used network devices that were unplugged to save ports as well (a/v receiver, bluray player, etc. that I only needed connected to update firmware). It was time to upgrade.
I decided to buy used since enterprise and small-business organizations alike tend to upgrade their network hardware regularly. I found a great deal on a Netgear ProSafe GSM7224 Managed Gigabit switch on ebay ($25, shipped). It arrived in used, but fair condition… and missing one of the rackmount ears. So, I set it aside along with the patch panel to deal with another day.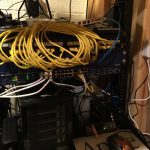 "Another day" happened today when I finally had some time off of work to do maintenance in my server closet. I fabricated a rackmount ear out of a generic ear for Belkin hardware that I had laying around and attached it to the switch. After re-configuring the rack once again (moving shelves, keyboard trays, etc. around), I installed the new switch and patch panel. The switch was configured by the previous owner in a way that wasn't working for me. So, after a factory reset and network speed test, we were up and running.
Finally, I moved the Energy Bridge into the server closet, plugged it into the switch, mounted it to the interior wall and called it a day. Most people would have just unplugged something and been done with it. That would have driven me nuts. 2 hours later and I feel like I actually accomplished something… what that is, I'm not sure, but I know I did it the right way.